Chevron Mining Inc., Questa Mine (Formerly Molycorp Mine)
Site History: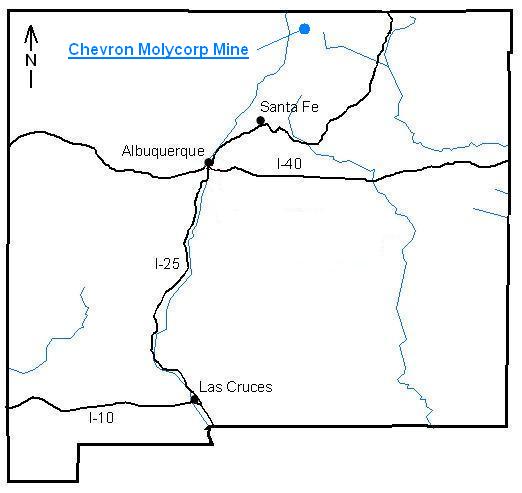 Chevron Mining Inc. site facilities includes the underground workings, open pit, waste rock, tailings impoundments, and the tailings pipeline. Releases of hazardous substances, including arsenic, cadmium, chromium, cobalt, lead, manganese, and zinc, from the Site have occurred from various sources including seepage from contaminated mine waste surface deposits, spills of tailings slurry from the tailings pipeline, and seepage from the tailings ponds.
Location:
The Site is located approximately five miles east of the town of Questa, adjacent to the Red River and the mine tailing ponds are located approximately nine miles west of the mine.
Trustees:
State of New Mexico
United States Department of Agriculture Forest Service
United States Department of the Interior
Overview:
The Trustees and Chevron Mining Inc. reached a $4 million settlement to restore groundwater and habitat natural resources that were injured as a result of releases of hazardous substances from the Chevron Mining Inc. mine facility. The consent decree outlining the settlement was approved by the U.S. District Court for the District of New Mexico on September 30, 2015. The settlement includes the transfer of 225 acres of land called the Anderson Ranch to the Bureau of Land Management for conservation and natural resource protection, and also includes the reimbursement of the Trustees' assessment costs.
Case Status:
Restoration Planning
Restoration Activities:
Natural Resource Trustee representatives for the Questa mine natural resource damage settlement held a public information meeting on April 27, 2016 followed by an open house on April 28, in Questa, NM.  The purpose of the meeting was to provide information about the natural resource damage assessment, the process for restoration project selection, and to provide assistance in the development of restoration project proposals. The deadline for project proposal submittal was August 1, 2016.
The Trustees carefully evaluated proposals and on November 16, 2017 the 
Draft Restoration Plan and Environmental Assessment ("Draft RP/EA")
for the Site was finalized. A public informational meeting was held on November 29, 2017 to answer questions about this document and about the restoration project evaluations. The public comment period ended on December 18, 2018.  After the Trustees consider public comments submitted on this Draft RP/EA, the Trustees will select a restoration alternative and finalize the RP/EA. A summary of public comments and the Trustees' responses to those comments will be included in the final RP/EA.
Questa Mine Factsheet – Public Meeting 11/29/17
Restoration Projects Evaluated by the Trustees – Public Meeting 11/29/17
Administrative Record for Molycorp Mine Natural Resource Damage Assessment