SOHIO L-Bar Facility
Site History: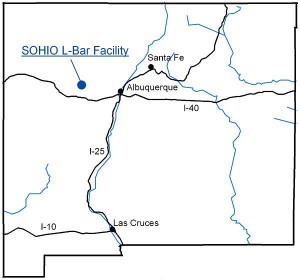 Releases of hazardous substances including nickel, selenium, and uranium from the SOHIO tailings facility resulted in the contamination of groundwater. The U.S. Department of Energy is monitoring natural recovery of the groundwater at the site. On August 31, 2004, a natural resource damage settlement was reached making $30,000 available for restoration project planning and implementation.
Location:
The SOHIO L-Bar facility was located at the former L-Bar Ranch uranium mill tailings disposal facility near the communities of Bibo, Seboyeta, and Moquino in Cibola County, approximately 47 miles west of Albuquerque and 10 miles north of Laguna Pueblo.
Restoration Activities:
The New Mexico Office of Natural Resources Trustee worked closely with the Cebolleta Land Grant to select and implement several groundwater protection restoration projects that upgrade wastewater treatment and sewer systems for the communities of Bibo, Moquino, and Seboyeta. See the final Restoration Plan for the SOHIO L-Bar Facility for details on the groundwater restoration projects.  The projects below were completed by December 2007.
Cebolleta Land Grant Wastewater and Sewer System Groundwater Protection Projects
Replacement and repairs to 400 feet of existing underground sewer pipelines
Construction and repair of earthen berms at wastewater treatment plants
Acquisition and installation of 260 feet of concrete barriers at a wastewater treatment plant
Vegetation removal at wastewater evaporation lagoons
Replacement and repairs to synthetic liners in wastewater evaporation lagoons
Purchase of a sewer cleaning machine for ongoing maintenance of sewer lines