Spill History:
On Dec. 27, 2016, a Fronk Oil tanker truck carrying petroleum products overturned in icy winter conditions on U.S. Hwy 64, releasing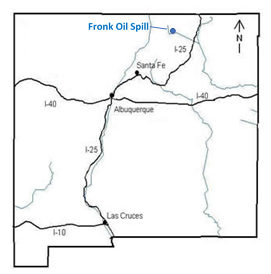 approximately 1,100 gallons of unleaded gasoline and diesel fuel into a section of the Cimarron River located in the Colin Neblett Wildlife Management Area of the Cimarron Canyon State Park within Colfax County, New Mexico. The spill killed fish and macroinvertebrates in the river and contaminated water, soils and sediments. A 1.5-mile section of the river downriver from the release was closed to public access for several months. Fronk Oil cleaned up the spill under the oversight of the New Mexico Environment Department (NMED) that involved capture of the fuel and removal of contaminated soils and sediments.
Location:
The Site is located at the Cimarron River in Colfax County New Mexico, approximately 5 miles east of Eagle Nest.
Overview:
On June 22, 2020 the New Mexico Office of the Natural Resource Trustee (ONRT) sent a Notice of Intent to Perform Assessment (NOI) to Fronk Oil under the authority of the Oil Pollution Act of 1990.  The assessment would quantify natural resource damages (damages) for the basis of seeking compensatory relief from Fronk Oil for damages remaining after spill response and cleanup under NMED regulatory oversight. Specific resources impacted by the spill included surface water, fish populations, fish habitat, and sediment/soils along the riverbank. Fronk Oil entered into settlement negotiations shortly after NOI receipt.
Case Status:
ONRT filed a complaint in the United States District Court for the District of New Mexico December 22, 2020 to recover from Fronk Oil (defendant) damages for the injury to, destruction of, or loss of natural resources, including lost ecological services, resulting from releases and the threat of releases of oil into the Cimarron River near Eagle Nest, New Mexico.
On December 22, 2020, ONRT also lodged with the Court a proposed settlement agreement in the form of a Consent Decree.  Under the settlement agreement, Fronk Oil will pay $150,000 to implement restoration projects that benefit fish, habitat, soil, water, and other natural resources injured, destroyed, or lost as a result of the fuel spill. 
The Consent Decree requested the Court take no action on the proposed Decree at the present time to allow for a 30-day public notice and comment process as summarized in the Decree. 
From December 28, 2020 to February 1, 2021, the ONRT will accept comments relating to the Consent Decree.  Comments should be addressed to Ralph Gruebel, Office of New Mexico Natural Resources Trustee at ralph.gruebel@state.nm.us or at 121 Tijeras NE, Suite 1000, Albuquerque, NM 87102, and should refer to: Fronk Oil Consent Decree.
Fronk Oil Spill Consent Decree Public Notice – Published in the Santa Fe New Mexican on December 28, 2020.