Fort Wingate Depot
Fort Wingate Complaint and Proposed Consent Decree
History
The Fort Wingate Depot Activity (FWDA) is an inactive U.S. Army depot whose former mission was to receive, store, and ship defense-related material and to dispose of obsolete or deteriorated explosives and military munitions. In 1993, its active mission ceased and the installation was closed.
Activities at the site resulted in the release of hazardous substances including lead, arsenic, other metals, volatile organic compounds, polychlorinated biphenyls (PCBs), and explosive compounds.
FWDA currently occupies approximately 24 square miles of land in McKinley County in northwestern New Mexico and is almost entirely surrounded by federally owned or administered lands, including both national forest and tribal lands.
The Site includes an approximately 7,400-acre magazine or "Igloo" area consisting of 732 earth-covered igloos and 241 earthen revetments previously used for storage of munitions; Open Burn/Open Detonation areas; a 700- acre industrial area containing former ammunition maintenance and renovation facilities, an 800-acre administration area containing offices, housing, warehouses, and other structures; and approximately 7,400 acres of buffer zones.
The FWDA site contains a range of topographic elevations and vegetative communities that include cold desert, semiarid, and seasonal wetlands. Upland forested habitats include ponderosa and piñon/juniper woodland; desert scrublands are home to grass & shrub mixes; and lowland seasonal wetlands support a diverse community of riparian species. These vegetative communities provide habitat for mammals, birds, and other biota. In particular, the wetlands are of critical importance to wildlife because of the arid climate and the general scarcity of water in the region.
Environmental remediation of the FWDA lands still under Army control is ongoing under the authority of the New Mexico Environment Department Hazardous Waste Bureau.
Location
The installation is located approximately 12 miles east of the City of Gallup, New Mexico, on Historic US Route 66.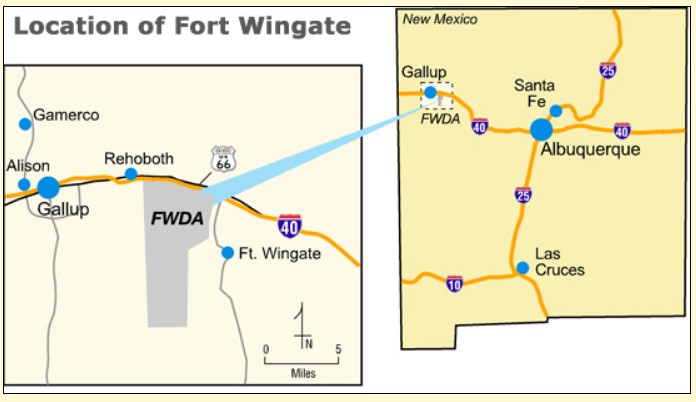 Map credit: www.ftwingate.org
Co-Trustees for natural resources located at and near FWDA
State of New Mexico, Office of the Natural Resources Trustee (ONRT)
Navajo Nation
Zuni Tribe
United States Department of Defense
Case Status
The Co-Trustees have worked cooperatively to evaluate potential injuries to all natural resources caused by known activities at the Depot, including to groundwater, upland forested habitats, desert scrublands, and lowland seasonal wetlands, as well as the natural resource and cultural service losses potentially associated with such injuries.
The Co-Trustees have reached an agreement with the United States, on behalf of the U.S. Army, to settle claims for natural resource injuries caused by releases of hazardous substances at or from FWDA. The agreement calls for payments totaling $1,451,069.84 to restore natural resources and cultural services that were injured by releases of hazardous substances from FWDA. The settlement includes $1,020,150 for upland/lowland restoration projects; $117,000 for cultural services damages; $160,770.84 for Trustees' past costs, and $153,149 for future Trustee costs. The consent decree outlining the settlement was filed in the U.S. District Court for the District of New Mexico on March 28, 2022. The agreement will become effective and binding on the parties pending a 30-day public comment period and subsequent approval by the court.
Restoration Planning
After the settlement agreement (consent decree) has been approved by the Court, ONRT will work with the Zuni Tribe and the Navajo Nation to select and complete natural resource restoration projects utilizing settlement funds. Both tribes have long-standing historical ties to the lands in and around the former Ft. Wingate munitions depot. In addition, separate and apart from this settlement, substantial portions of the FDWA have already been transferred to the Bureau of Indian Affairs in trust for each of the tribes.